Give your business an edge with the high-performance TRX zero-turn mower with tracks from Altoz. MacAllister Outdoors is an authorized Altoz dealer, providing home owners and professionals throughout Indiana with solutions to enhance their results and receive a greater return on their investment.
Altoz TRX Zero-Turn Mowers
Download the TRX Series spec sheet, or visit Altoz.com for more information.
Call us at (317) 788-4624 or contact us online to schedule a demo.
Do More With the Altoz TRX
Altoz has designed a system to take you further than you've been before. These TRX mowers offer zero-turn capabilities with tracks, providing unrivaled control to take your operations up a notch. Traverse countless terrains easily with exceptional traction. Track options for all-terrain abilities ensure year-round operation, facilitating crucial maintenance projects through snowy regions, wet surfaces and other challenging land types.
Professionals can trust the TRX track mower to expand their offerings to attract more customers and grow their business. These mowers are available in unique configurations, offering varying horsepower levels with speeds between 8 and 11 miles per hour to keep every job productive.
Altoz's zero-turn mowers with tracks offer additional benefits you can rely on, including:
Precision performance: Produce a consistent cut every time. Choose the Aero Deck™ to create an accurate, professional-looking cut or the All-Terrain Deck for a robust material handling process.
Extreme resilience: This mower line is manufactured with heavy-duty fork casters and C-channel frame rails to deliver a lasting performance. It relies on a resilient fabricated steel deck construction for unrivaled stability and support.
Convenient customization: Build a multifunctional mower fit for your needs using aftermarket Altoz accessories. Give your mower more utility with add-ons like slope meters, collection systems and spreaders.
Partner With MacAllister Outdoors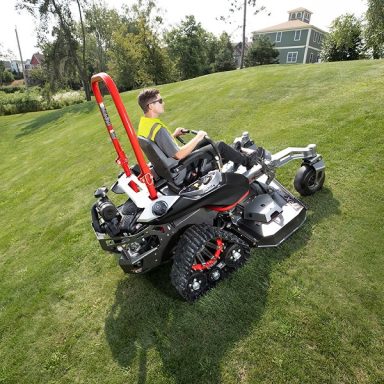 MacAllister Outdoors is a trusted Altoz dealer with the resources and experience to satisfy your needs. We maintain a full inventory of zero-turn track mowers at affordable prices. Our team can guide you through the purchase process to find the right TRX model, pairing you with the perfect solution to increase your return and generate new business opportunities.
We offer new and used options to fit your budget. Our used mowers are undergo inspections to guarantee they're ready to get to work.
As a full-service provider, we supply Indiana professionals with a complete line of after-sale solutions. We strive to be more than just your dealer, attempting to form a lasting relationship that drives meaningful change to your operations. Our skilled technicians can handle various tasks, including maintenance, troubleshooting activities and repairs, to keep your equipment efficient and profitable. We can even train employees on proper operation to give them the knowledge they need to maximize your investment.
Contact Our Team to Learn More
MacAllister Outdoors is your go-to equipment dealer for high-quality zero-turn mowers from Altoz. We have served customers from our convenient locations in Indiana for over 70 years. We invite interested professionals to visit us to check out our inventory and speak with our sales associates. Feel free to contact our team online or call us at (317) 788-4624 to get started today.