Altoz is an industry-leading company with over 30 years of engineering and manufacturing experience. The company has developed a meaningful reputation for producing cutting-edge mowers that enhance on-the-job performance and generate high returns. Their TSX line of tracked stand-on mowers is an innovative breakthrough in the lawn care industry, taking contractors and home owners further than ever before.
MacAllister Outdoors is an authorized Altoz dealer with a vast collection of stand-on mowers with tracks. We're your source of high-quality lawn equipment to propel your operations forward.
Altoz TSX Stand-On Mowers
Download the TSX Series spec sheet, or visit Altoz.com for more information.
Call us at (317) 788-4624 or contact us online to schedule a demo.
Deliver Unrivaled Quality With TSX Stand-On Track Mowers
Cover more ground in less time with a TSX stand-on track mower from Altoz. These mowers offer unrivaled efficiency to traverse the harshest conditions and complete every job on time. They use an innovative track design to protect the integrity of the terrain while maintaining traction to move up hills, within ditches, across retention ponds and through the mud.
Expand your capabilities and boost productivity to get more jobs done. This stand-on-track mower is the first of its kind, offering benefits like:
User-friendly controls: This system is designed with an intuitive command center to put all the controls you need within reach.
Reliable strength: Altoz's stand-on mower is manufactured with a steel deck and uses superior swing blade designs to process a high volume of materials.
Personalization: The TSX model line offers countless ways to maximize your investment. Customize your mower with unique accessories like weight kits, turf tracks and mulching blades.
MacAllister Outdoors Has What You Need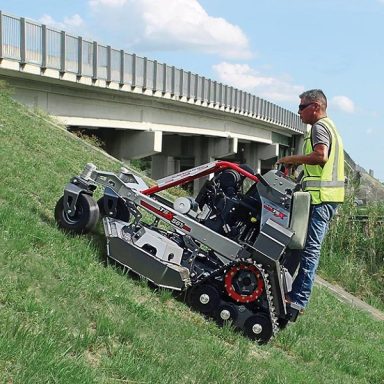 When you're in the market for a new or used stand-on mower with tracks from Altoz, you can count on MacAllister Outdoors. We're an authorized Altoz equipment dealer with over 75 years of industry experience through our parent organization, MacAllister Machinery Company. These years of service have given us the knowledge and skills to satisfy your needs, developing solutions that adhere to budget requirements and optimize workflows.
Our team of trained technicians is the best in the business. They leverage their training and deep product knowledge to help you navigate new and used purchases. All of our used equipment is thoroughly inspected and expertly maintained to ensure proper operation on the job site. We're also committed to delivering dependable after-sale support services, from preventive maintenance to complex repairs. Our team offers a complete line of Altoz replacement parts and troubleshooting capabilities to keep your stand-on mower operating at maximum performance.
Contact Us to Learn More About Our Altoz Stand-On Mowers
MacAllister Outdoors strives to provide Indiana professionals with the highest-quality construction, lawn, tractor and power tool equipment possible. Our expertise and network of resources position our team as the premier dealer in the region.
Interested in learning more about how our services can streamline your operations? Visit us at one of our convenient locations in Indianapolis and Fishers to view our current inventory of Altoz stand-on track mowers. You can also call us at (317) 788-4624 or contact us online to request a demo today.