Altoz is the manufacturer of the world's first tracked zero-turn and tracked stand-on mowers. Altoz mowers are built for agriculture, municipal, commercial and residential applications, resulting from more than 30 years of next-generation engineering and design. Their reputation is built on the ability of their tracked mowers to safely go and cut where other machines can't.
MacAllister Outdoors is an authorized dealer of lawn mowers from Altoz, providing professionals and home owners throughout Indiana with access to the industry's best equipment.
Call us at (317) 788-4624 or contact us online to schedule a demo.
Our Altoz Mower Lineup
As an authorized Altoz dealer, you can count on MacAllister Outdoors for the newest Altoz mowers along with Altoz parts and service.
Choose from the following products: [Click on the images to learn more]
Altoz Tracked Zero-Turn Mowers
Altoz commercial-grade zero-turn mowers offer mowing widths up to 66″ and speeds up to 11 miles per hour.
Altoz Tracked Stand-On Mowers
Altoz commercial-grade stand-on mowers offer mowing widths up to 61″ and speeds up to 10 miles per hour.
The Benefits of Altoz Mowers
Tackle any job with confidence using Altoz rough terrain mowers. The first of their kind, these innovative mowers offer an unrivaled performance to deliver exceptional results and take your capabilities to new heights. Each mower is manufactured with the end user in mind, offering a professional-grade option to complete projects in less time. Cutting-edge technology and user-friendly controls create a standout solution to increase returns and effortlessly exceed client expectations.
If you're in the market for a new, high-performance mower, Altoz has what you need. Consider the following benefits that Altoz lawn mowers provide:
Durability: These track mowers leverage high-quality designs and reinforced steel to enhance stability. You'll have the power to go more places knowing your professional-grade tools are secure and ready to perform.
Versatility: These mowers feature an innovative track system and rear axle torsion suspension, allowing them to successfully traverse a variety of terrains and conditions. That includes hills, slopes and wet conditions. This rough-terrain mower will expand your capabilities and position your team as the go-to service provider in the area.
Efficiency: Altoz tracked mowers will help you precisely cut grass in less time to reduce work hours and amplify performance. The track systems provide low ground pressure, so you can safeguard clients' properties from damage without sacrificing traction.
MacAllister Outdoors – Your Altoz Mower Dealer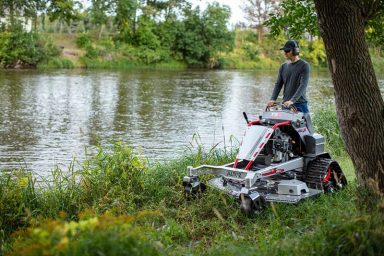 When you're looking for a dependable Altoz dealer, you can trust MacAllister Outdoors to fill that role. We're part of the MacAllister Machinery family, which has a history stretching back to 1945. This experience gives our team the insight we need to provide long-term solutions. Total customer satisfaction is our primary goal, made possible through our commitment to continuous improvement, consistent communication and unwavering support.
Our operation is upheld by a dedicated team of technicians and specialists. These professionals understand our products like the back of their hands, maintaining a deep knowledge they can use to help you optimize your business performance. With their help, we can address your planning, installation and maintenance needs. We can even train your team in proper equipment use and troubleshoot possible solutions when challenges arise.
Our New and Used Lawn Equipment
Choose MacAllister Outdoors and enjoy uninterrupted access to the industry's premier products. We maintain a vast inventory of top-quality products, including Altoz track mowers, to help you get your hands on tools ready to boost on-the-job performance. We provide new and used equipment to professionals across the state.
Our used equipment is expertly cared for and thoroughly inspected by our qualified service technicians. Our used inventory is constantly changing, so get in touch to discover what we have in stock. We also carry a variety of high-quality Altoz parts to keep your equipment running efficiently.
Learn More About Our Altoz Mower Lineup
MacAllister Outdoors has two convenient locations in Indianapolis and Fishers to serve your business operations. Stop by today to view our selection of Altoz commercial mowers and take one for a test drive. You can also learn more about our existing Altoz inventory by giving us a call at (317) 788-4624 or contacting us online today.